Welcome to the Sports and Fitness page!
The Importance of Fitness
The Sons of Norway recognizes the importance of healthful activities in prolonging and improving quality of life through physical activities. The Sports and Fitness Medal Program, which originated in Norway, will help you improve your physical well-being as well as your attitude toward physical activity. Regardless of your age or physical condition, the Sports and Fitness Medal Program offers an activity plan for you. Once you select the activity program in which you wish to participate, you are given time, point or distance requirements for medal qualifications and you work at your own pace to achieve your goal. The major stipulation is that all requirements for each medal must be met within a calendar year, which can start anytime, and points do not carry over or accumulate from one medal to the next. Each succeeding medal, starting with Bronze and progressing through Silver, Gold and Enamel, carries and increasing point and distance requirement. Also, the requirements vary between selected age groups, with younger and older participants requiring fewer points and less distance than those in the "mid age" ranges
We currently have 33 Sonja Lodge Members enrolled in some aspect of the Sport and Fitness Program, with close to half (most of them pictured below) having already received medals at the Bronze, Silver, Gold and Enamel level. Medals are awarded in five areas, Walking, Cycling, Skiing (cross country), Sports and Fitness and just recently added, Swimming. The Sports and Fitness Medals, on which many of our members are working, includes a variety of activities; Aerobics (water and dry), Golf, Hiking and Backpacking, Rowing, Bowling, Softball, Handball, Tennis, Weight Lifting and many more, and activities which are not on the original list, such as Snow Shoeing, Downhill Skiing and "Curves" can be added. Many of our members were already participating in some fitness activity. The medal program has become a way to get a little extra motivation to continue their fitness or sports program, gain some recognition with their peers, receive an attractive medal for their efforts and have some fun in the process. More information is available on the Sons of Norway web site or just see me at the next Lodge meeting.
Your Sports and Fitness Director, Brian Rase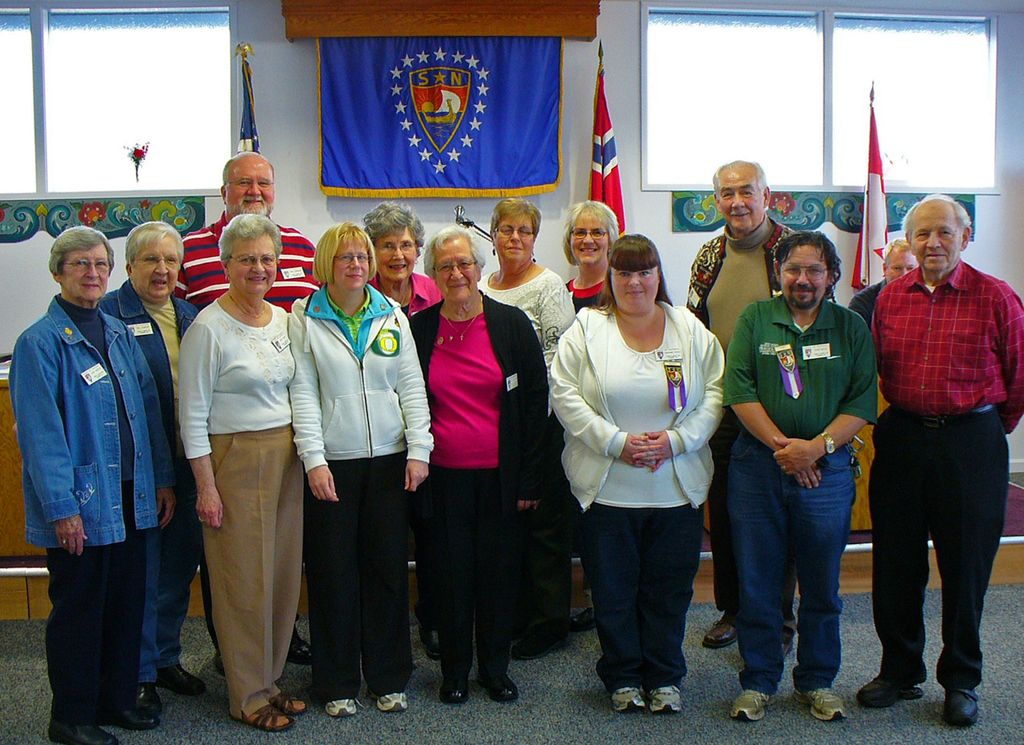 Pictured above, some of the recent medal recipients.